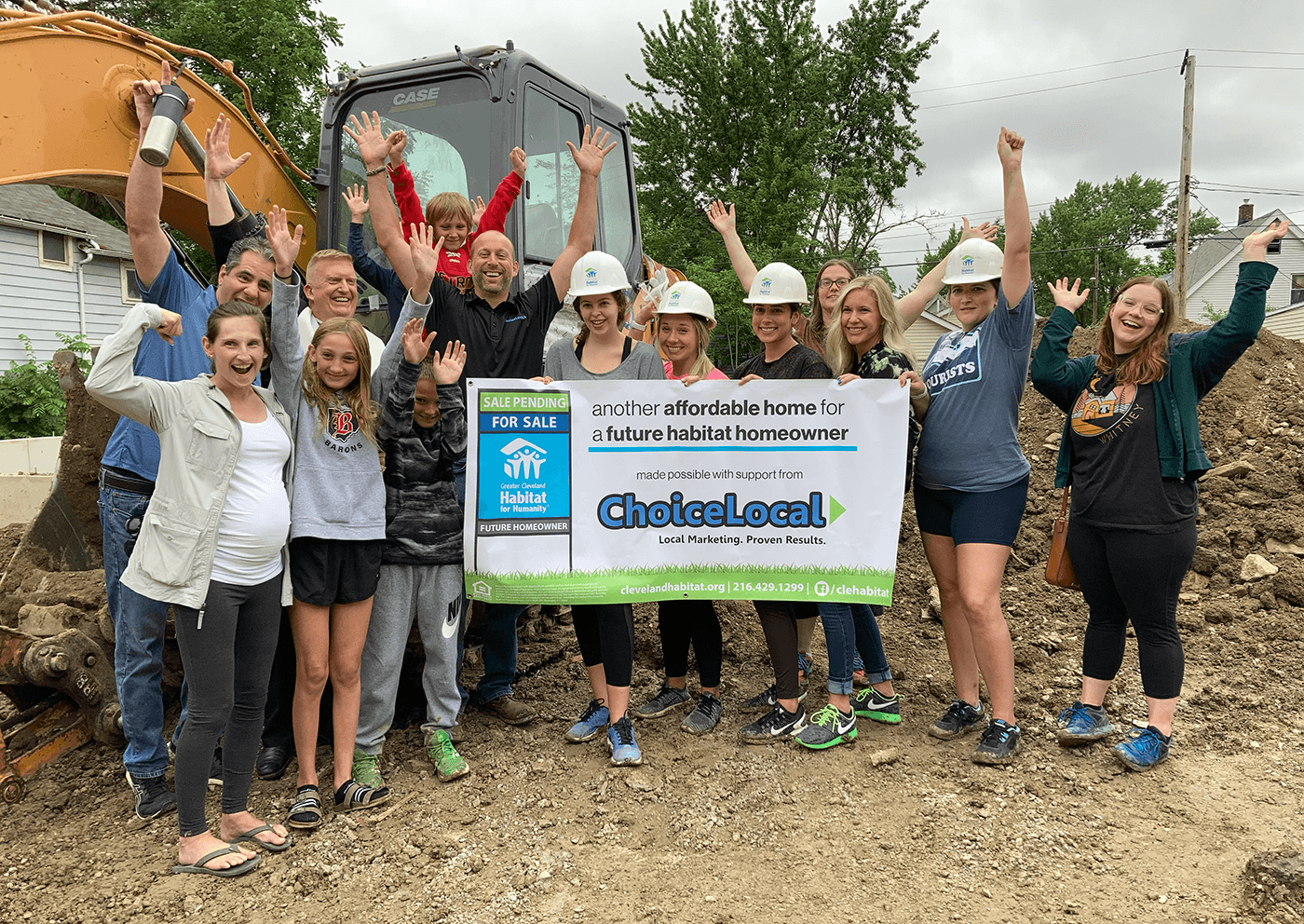 Ten years ago, ChoiceLocal founder Joe Soltis was living a much different life. He was a top executive at a national marketing firm, navigating a demanding workload and growing his family. Then, in 2012, Joe and his wife Becky received life-altering news: the couple lost their son late into their pregnancy.
That's when Joe and Becky decided to bring purpose out of this pain and create the Benjamin Isaac Foundation, ChoiceLocal and the goal to help 10,000 kids a year. And this year, the Soltis family has decided to partner with Cleveland Habitat to build a home for a hard-working Cleveland family.
Below is our full Q&A with Joe and Becky about why they chose to work with Cleveland Habitat and what this means to them. 
Question: Why did you choose to sponsor a Habitat house?  
Answer: We wanted to change the life of a family in a really big way. Giving a family a nice home, a safe home, will enable a family to build generational wealth, get out of poverty and enable things like education for themselves and their kids. This is a great way to help others. We also like the diversity of people that Habitat helps and Habitat better enables the world and our local community to overcome historical racism as we move into a new era that really supports and encourages all Americans. Most importantly, we love that Habitat is faith-based and founded on Christian principals. Through Habitat we see a way to help a family, make the world a better place and bring others closer to a God that loves them.
Q: How do you see your donation and involvement with Cleveland Habitat aligning with your goal of helping 10,000 kids a year? 
A: With this donation we are helping a family, enriching the neighborhood and community and showing love to others.  That is what our Big Hairy Audacious Goal of helping 10,000 kids per year is all about with ChoiceLocal and through the Benjamin Isaac Foundation that ChoiceLocal funds. Through this donation lives will be forever be changed not just through a nice and safe home, not just through the countless kids lives touched through the community, but very possibly through the kids that will live in this home. By helping one  family in this specific community we can provide optimism for the people who live there and the larger community around them. This in the most beautiful way, shows to love of God to kids, to family, to community and that really is such a beautiful and wonderful thing.  If can help save kids from a life of turmoil and instead give them a life of hope and love, what a great and lasting gift to give – it just warms your heart.  
Q: What does home mean to you? 
A: Home is where your heart is nurtured, it's a safety base, it's a place of shelter, encouragement and hope. Yes, a home is a physical building that keeps you safe and healthy. Yet a good home changes the world through the lives of the people that are formed there.
Q: What role do you think a safe, stable home plays in the life of a child? 
A: It's critical – without safety and stability how can one grow to feel loved, to feel valued, to be nourished? It is not impossible, there is always hope for anyone regardless of how hard their home life was growing up, yet it is SO HARD to grow up to be whole, connected, happy, valued, and successful without having safety and stability within a home as a child. Habitat not only provides that framework with the physical structure, but it then pours into that home the LOVE of the community, the LOVE of the family moving into that home, but also the LOVE of God as shown through all the people who helped make the home possible, the family moving in, the House Blessing and the gift of the Word of God in physical form, given to the family through the Bible.
Q: What have you, your family and your employees gotten out of working and volunteering with Cleveland Habitat? 
A: One of the goals we had with this special project with Habitat was to give all of the teammates at ChoiceLocal the opportunity to feel in their heart how good it is to help another – to help someone in need of love, safety, stability, hope – and to give that very gift to them.  Our team knows that through the daily successes that they create for our client partners, they create profits that fuel our charitable mission. Now, in addition, through the labor of their hands in helping to build this wonderful home as a volunteer, they can take part in building something great for someone great- the people, the beautiful souls that will move into this house that ChoiceLocal helped build. In addition, it has shown our kids, that Becky and I are raising, that it's more important to love others than to give to yourself. We have taken this money and given it to a great cause instead of spent it on luxuries  we simply don't need. God did not give bounty to some, to hoard it to themselves, instead he gave that bounty to give that bounty to others.
Q: What does this project mean to you and your family?
A: We lost our son Ben. Out of the loss of our son, both Becky and I decided we wanted to bring purpose out of that pain.  We wanted to make the world a better place. We wanted to do it, one heart and one soul at a time.  When Ben died we knew we had a ton of love in our hearts to provide love for him and since his passing to heaven, we can now show that love to everyone – by working to help them find hope, meaning, and all necessities that one needs and truly deserves. Habitat is a perfect way to show this kind of love. Big love. So yeah, this means a lot. 
Congratulations to Joe and Becky who welcomed their newest son, Ty, to the world this September.