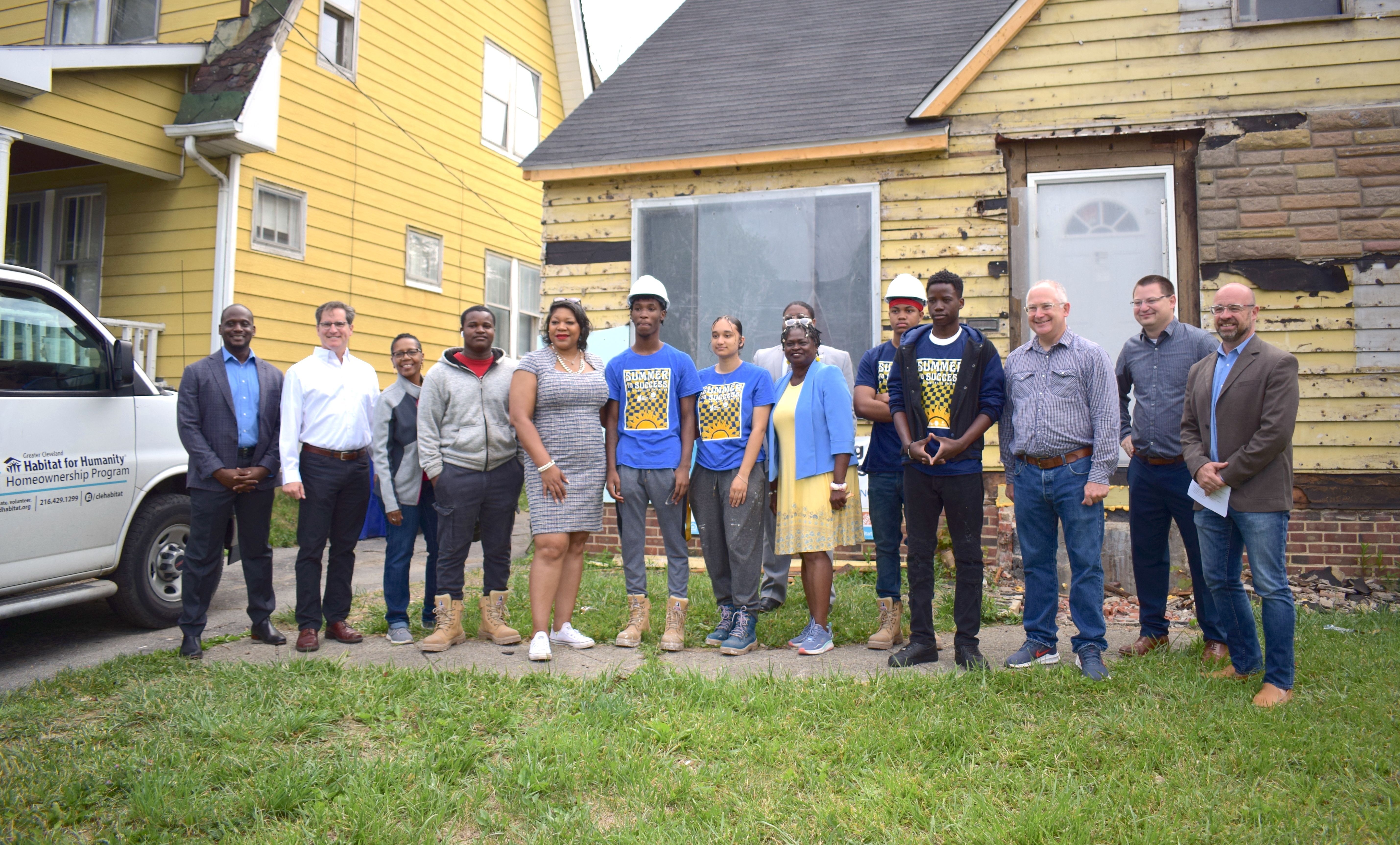 Greater Cleveland Habitat for Humanity and Youth Opportunities Unlimited (Y.O.U.) celebrated the start of the 2023 Building Great Futures (BGF) program with a kickoff event at the site of the home where the program participants will be working.
The Building Great Futures program offers young adults the opportunity to learn construction trade skills under the supervision of professionals who work and/or volunteer with Greater Cleveland Habitat.
Greater Cleveland Habitat President and CEO John Litten described it as an opportunity to accomplish three worthwhile endeavors with one program.
"I view this as a 3-for-1 deal," Litten said, referring the BGF program. "it gives us some extra hands to work on the many homes Habitat works on every single day. It provides a training and work opportunity for young people interested in joining the construction trades. And, of course, most importantly, it provides a home to a family who needs it."
This is Greater Cleveland Habitat's sixth year hosting the Building Great Futures program with Y.O.U. During that time, the organizations have seen a total of 66 program participants (including this year's class), who have rehabbed 14 homes to help 17 adults and 27 children realize the dream of homeownership. Seventeen participants returned to the program for a second year.
"We have many partnerships that are wonderful. This one is always so special to us," said Brittany Atkinson, Y.O.U. Senior Manager of Summer Work Experiences. "It's one that the staff has always talked about with a very special tone for the past three years, since I've been a manager."
This year's program is sponsored by PNC and one anonymous sponsor. The participants received work boots courtesy of the Electrical League of Ohio, PEPCO and the National Electrical Contractors Association, and tools provided by Home Depot.
Several community and state leaders attended the kickoff event, including Cleveland City Councilperson Deborah Gray (Ward 4), Cuyahoga County Councilperson Meredith Turner (District 9) and Ohio State Senator Kent Smith. Also among those present at the event were Y.O.U. Board Members LaTina Johnson and Jeremy Sosin, James Nichols of the Cuyahoga Land Bank, Donald Woodrow of the Union-Miles CDC and Brehon Pittman from the office of Ohio Congresswoman Shontel Brown.