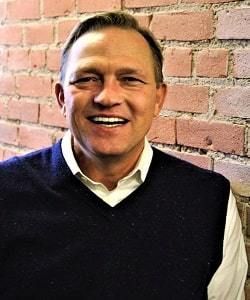 Board announces plans for leadership transition, begins search process
After more than 10 years of distinguished leadership and service to Greater Cleveland Habitat for Humanity, President and CEO John Habat will retire from full-time responsibility at the end of 2022. The Habitat Board of Trustees today announced Habat's plans and outlined the search process for a new President and CEO.
"John has been an exceptional leader and friend," said Michael Owendoff, Board Chairman. "In his decade of service to the Habitat Mission, John has impacted the lives of hundreds of families by helping to make the dream of home ownership a reality. His work to revitalize Cleveland's neighborhoods will be felt by generations to come.
"While finding a successor who can match his dedication, compassion and unwavering advocacy for our Mission will be no small feat, we are confident that we will find the right candidate to fill this important role," Owendoff noted.  He said the advance notice Habat provided, as well as a deliberate process of succession planning, gives the organization ample time to recruit and identify a strong candidate while maintaining stability and continuity within the organization.
Habat will remain in his current full-time role until October 2022 and plans to fully retire in early January 2023. The Board has outlined a search process that anticipates an overlapping transition between Habat and the incoming President and CEO, to assure a smooth transfer of responsibility and to leverage his deep knowledge and experience.
"This is truly one of those situations in which I received far more than I gave," said Habat.  "This capstone to my career has been an incredible blessing."
The candidate search will include extensive outreach. Invitations for candidates to apply are being issued and the position will be posted across a variety of networks.
Candidates will be screened and interviewed this spring and into the summer. The Board plans to announce the new Habitat President and CEO by September 2022. The search committee has retained the services of an independent recruitment consultant and will manage the search themselves.
"Habitat is in an excellent position to successfully manage this transition – we are financially strong, leadership is excellent, and our network is extensive," said Owendoff. "That is largely attributable to John's steady guidance toward advancing our Mission to bring affordable housing to Greater Cleveland and establishing connections throughout the region."
The Board's search committee will keep stakeholders apprised of the search process at key points.